Cloudseed, 2013 (citystream)
"…there are points at which the intertwining of contrasting reed tones as on "Yah Boo Sucks" or from the stretching of equivalent lines from Taylor and Kaluza on "To Boldly Go" re-orient the themes. Improvisational – or is it compositional – sophistication then produces excitement resulting from the push-pull between the horns' and the others' definition of the tunes. This doesn't take place in an atmosphere of whey-faced experimentation however. As a matter of fact a track such as "Home Time", which ends with the reeds trading fours after an avant-Rock drum'n'bass clattering and some firecracker-like explosions from whistling staccato guitar, conveys a sense of entertainment more expected from the Dutch than the English. "
Cloudseed reviewed at www.jazz.pt by Paulo Chagas
"Taylor's sound is crystalline and delicate, always keeping a certain amount of sweetness in the clarinets, especially the soprano, even during the most daring passages. When he switches to the bass it is like the steady swing of a pendulum. The alto saxophone of Berliner, Anna Kaluza, interpolates something of the fuller quality of the language of modern European jazz. The guitar of our fellow countryman, Pedro Velasco, fills every corner of the album with a filigree ambience that superficially appears understated, but is truly assertive. Mazur proves equal to the task, providing an exceptional bass that is always more melodic than rhythmic.  The drums of Greenhalgh work as a sort of 'boomerang', switching the rhythm almost short of and almost beyond the pulsing time. All this movement of sound combined together is brilliantly paradoxical, taking us as close as possible as it gets to daydreaming."
Review by Maciej Nowotny, RadioJAZZ.FM
"The music reminds me of a controlled explosion, yet this is an explosion that does not destroy anything at all but, on the contrary, creates one of the most astonishing musical worlds I've heard recently! Marvelously paradoxical: it manages to be coherent, spontaneous and well thought-out yet at the same time, it is completely improvised. This is the artistic statement of a group of excellent musicians and mature artists and I recommend it to anyone in love with the free side of jazz, music and…life!"
'scraffiti', 2011 (citystream)

"Splatter seems to be a four-bodied one-mind entity, the communication, the mutual understanding, the almost hypnotic ability to follow each other's ideas – it's all here, crystal clear.
This music soothes your soul, it allows you to travel slowly between the stars. In fact it's quite uncanny how subtle and melodic those improvisations are, how accessible this music remains, while mantaining this elusive, emotionally gripping quality of the improvisation. Or maybe the term of a real-time composition would fit better? Never mind the terms, poetry doesn't need words."
'scraffiti' – reviewed at allaboutjazz.com by Luca Pagani
"There is music that creates an environment by using sound more as an element of space than of time. It results in something unique, where the end of a piece does not bring about an end to the listening experience, but expands beyond the confines of time. This is what happens with "High Plains," where long and protracted notes from the saxophone and clarinet create an acoustic wave reminiscent of "Tnoona" on The Art Ensemble of Chicago's Fanfare for the Warriors (Atlantic, 1973), with its depth of sound and deep disorientation of memory.
There is obviously much more to this second album by Splatter, a multinational band based in London, England. Most of the space is dedicated to improvisation, to collective musical creation. In "Alarums & Excursions" the instrumental colors burn like a fire that races and fights through the voices of the saxophone, clarinet, guitar—and in particular the drums, which drive and define the music. Splatter's music often opens delicately, such as in "d-lite," which advances with strange liquid noises, timidly disguising its poetic exaltation.
Sometimes the music offers a gift of thanks, such as in "Low Thoughts," where the band plays freely without any motive or rationalization. Splatter's players don't focus on themselves as musicians, but as men and women on a collective journey. The guitar Sounds ever more distant, captured within some far-off memory where music that might once have been is the music of the future.
At first glance this may sound like a band far from modernity, one that has merely dipped itself into the creative improvisation of the 1970s, but that would be to ignore the moments of tension, or the complete fusion of musical genres, such as in the groove of "Fresh Squalls," where gusts of wind breathe against the teasing feints of the drums, or the trills and rhythmic outbursts of "Lobster Quadrille"—another free tune —which encapsulates a thought, and is the fruit of a precise intention and its eventual realization.
Scraffiti is another dream, with sounds both fresh and familiar."
'Music for Misanthropes' 2010 (citystream)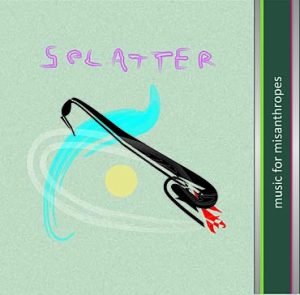 "The music is sweet, gentle and accessible, free and quite mature, in contrast to the adolescent scribblings on the back cover. And entirely improvised. And I must say, well improvised. The lyricism and interplay on some pieces make it sound as if it's thoroughly rehearsed or at least pre-conceived, but apparently n
ot. The bass guitar of Monsalve is one of the most distinguishable and defining factors of the music. He gives color, punch and rhythm, allowing for the double reed front line to interlock phrases and melodies, and giving the excellent drummer the opportunity to play on or around the beat at leasure. Both Kaluza and Taylor are really good and creative, not trying to imitate, but making their own sound. It all Sounds young, crisp, fresh, modern, with rock-influences of course, and with vision and coherence. They give the Claudia Quintet as possible reference, and in terms of sound there are indeed analogies, but not conceptually. Chris Speed and Jim Black are somewhat better for comparison, albeit a little more free.
And misanthropes? Not at all. They have a sensitivity and emotional content that is too gentle. A really strong and enjoyable debut."