Splatter grew out of a meeting between saxophonist Anna Kaluza, bassist Raúl Monsalve & Noel Taylor on clarinet. They were soon joined by drummer Pharoah Russell & before long had released the first CD, 'Music for Misanthropes'. Splatter seemed to develop their characteristic style very quickly, and this style seems to survive the various changes in personnel that circumstances have enforced. Pharoah Russell moved for a while to Slovenia and was replaced on drums by Australian Michael Caratti. When  Raúl Monsalve had to leave the UK, Michael Caratti suggested Pedro Velasco would make a fine replacement. This was the line-up that resulted in the second CD, 'scraffiti'.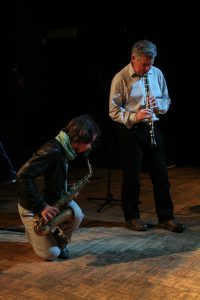 As Terry Day once remarked, Splatter always seem to end up with an excellent rhythm section, so when Michael Caratti, in turn, left the UK for Australia, he was replaced by Tom Greenhalgh. This has been the line-up for several years now. Splatter, in all its incarnations, has performed widely in London – including Cafe Oto, Ray's Jazz, IKLECTIK, The Yard Theatre,  Arch1, Utrophia, Servants Jazz Quarters etc. They have also performed at B-Flat in Berlin and in Krakow in Poland. The Polish excursion resulted in a relationship with the Polish bassist, Rafal Mazur who joined them on their 3rd CD, 'Cloudseed'. Rafal later invited Splatter to perform with him, again at Cafe Oto, in an event called 'Experimental Music from Poland'.
Splatter's appearance in the 2016 London Jazz Festival demonstrated that the extraordinary empathetic relationship – the ' four bodied one mind entity'  referred to by the 'Jazz Alchemist' – was and is, completely intact. Many musicians speak of taking 'risks' – and often they mean to risk playing music that an audience might not like. There is another kind of improvisational risk, which involves using simple elements where the audience can sometimes anticipate & judge the outcome. Many commentators have expressed surprise at the unusual blend of accessibility & experimentation that Splatter manage to combine. This is the result of taking both of these kinds kinds of risk, and at the same time listiening & responding to the smallest nuances of change between the four musicians.