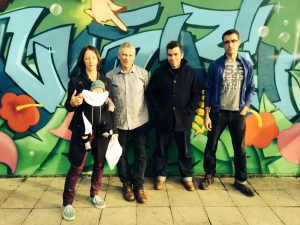 Splatter play improvised music that is not quite many things. It isn't quite jazz, it isn't quite free jazz, it isn't quite free improvisation, it isn't quite avant rock or plain old rock, or folk music or contemporary music – it is all of these things, mixed together in the moment – sometimes in the same tune. TimeOut remarked that Splatter  'feed shards of rock and black metal into their freeform jazz Soundscapes". It's close ernough….
"Splatter seems to be a four-bodied one-mind entity, the communication, the mutual understanding, the almost hypnotic ability to follow each other's ideas – it's all here, crystal clear."
the Jazz Alchemist.
Portugal Tour – May 25th – June 1st, 2018
For the Portugal tour we are joined by  Pedro Melo Alves on drums and Luis Jose Martins on guitar. It's an irregular 'Splatter' – but then, when were Splatter regular? Furthermore, sadly, Anna Kaluza can only play with us on May 25th. This brings us the opportunity to experiment with exceptional new talent, in the form of Alek Baczkowski and Yedo Gibson.